RACHEL COOPER * NYC FITNESS TRAINER * NEW YORK AND NJ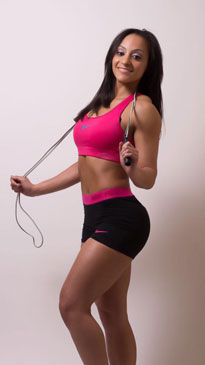 Rachel Cooper is a fitness enthusiast, certified personal trainer, holistic health coach, and founder of RC Fitness. Rachel is a native New Yorker which is instrumental in her high energy training style.
Her philosophy behind fitness and nutrition is attributed to having tackled her own personal weight loss and health struggles. This spark ignited her passion to transform those challenges and commit her life to health, fitness, and overall holistic wellness.
Rachel has had the opportunity to work with a diverse population of clientele both individually and in group training, including high school athletes, marathon runners, individuals battling weight loss, recovering from injury, building lean muscle mass, bikini competitors, and even the elderly looking to increase mobility and endurance. Rachel also coaches those looking to develop a clean, WHOLE-foods based diet. She does not tell her clients what to eat, but teaches them the truth about different foods and how this affects our health. Her strong desire to help others get in shape and live a healthy lifestyle inspires her to proactively coach people from all walks of life.
As  a training coach for the outdoor product company The North Face, Rachel leads workouts aimed to prepare individuals to achieve their outdoor sporting goals, using the New York city streets as a gym, all body movements, no equipment necessary. In addition to her dedication to coaching and her own personal health, Rachel actively participates in fitness fund-raisers within the community, supporting organizations such as Safe Horizon, and The Challenged Athletes Foundation.
What sets Rachel apart from other training coaches is that she once lived an unhealthy lifestyle so she understands the journey to healthy living because she has been there personally. Rachel was just an average everyday person who decided it was time to get results and make them count!
FITNESS VIDEOS by RACHEL
Looking for a quick workout routine you can do just about anywhere, anytime? Check out this workout video for your Butt and Thighs to shape them in just minutes a day!
It is easier than you think to get in shape, the key is to start with what you can handle and work your way up from there. Many just lack the motivation to keep going because they may not see results quickly but this is where RC Fitness can help! We provide you with easy to follow workout routines that FIT YOU and get YOU FIT!
Give the RC Fitness plan 33 minutes and if you don't feel a difference after 10 days of completing our 3:32 workout each day we would be shocked! And if you need motivation just let Rachel know and she can schedule an appointment.
Also please share this video with your friends and family and be sure to Subscribe to RC Fitness on Youtube.com!
" I fear not the man who has practiced 10,000 kicks once, but I fear the man who has practiced one kick 10,000 times "